Agricultural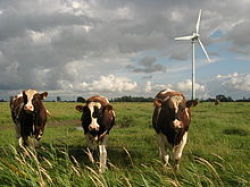 Farms, Cooperatives, Dairy and Livestock Operations, Greenhouses, Electric Grain Drying Systems

Our proven design in the WT100 wind turbine will take the unpredictability out of your electrical costs. With a Renewtech WT100 wind turbine, you can safeguard your agricultural operations against rising utility bills and make your farm operations a leaner and more profitable business.
Benefits of Wind Power in Agriculture:
Lower overhead: Electrical costs are significantly reduced as you produce the energy you are consuming. Add these savings to the state or federal incentive programs and your return on the initial investment is captured in several years – allowing you to put more of your profits back into your farm.
Energy independence: Produce your own electricity and take control of your energy future. In the event your wind turbine produces more power than you need, you may be able to sell it back to the utility (check your state's Power Purchase Agreement Laws).
Go "Green" in your business: Capitalize upon the use of wind power in the daily operations as sustainable and environmentally friendly business practices while reducing your carbon footprint.
Tax advantages: Between the federal investment tax credit, grant programs, and the rules for claiming depreciation on wind turbines; an investment in wind power today translates to real benefits that farmers can apply to the bottom line and balance operating budgets.
OPERATIONS & MAINTENANCE:
Renewtech offers Operations and Maintenance contracts for all WT100 installations once the wind turbine is commissioned and online. Our Wind Technicians focus on ensuring your wind turbine system operates properly within equipment manufacturer's specifications for years to come. Our aim is to protect the owner's investment with regularly scheduled maintenance or on-call emergency services when needed. Renewtech also offers certification programs should you want the flexibility to do your own maintenance.